By: Stuart Goodwin
Published: 25th March 2014, 3:11am
The Pied Piper of Newtown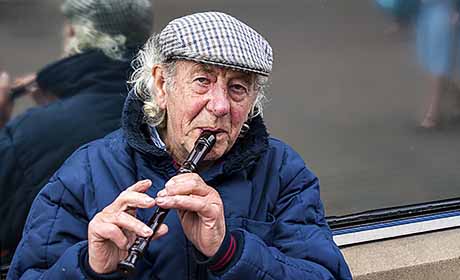 Atherton man plays the pipes of pizza.
An Atherton man has claimed the fast reopening of Krunchy's Chicken and Pizza in Newtown can be attributed to him.
He says he was approached by a man while playing Green Sleeves in Leigh outside of Greggs, to help with a 'small infestation' problem.
Helmut von Rattenfänger, who's family relocated to Manchester from Germany many years ago, can often be seen busking for money in Leigh and Wigan.
His family has a long line in pest control throughout Europe, although Helmut has no real interest in the former famliy busines and would rather forget the whole rat/children thing.
Helmut has been moved on many times by the police. His most embarrassing, he recalls, was when playing Saftey Dance, by Men Without Hats, outside the Wigan Council Chambers. "It was mayhem," he said, "Councilors piled up behind the door, biting and scratching each other, trying to get to me and my recorder, it brought back terrible memories. I kept shouting to them, 'I have no free ipads', but they just continued to scratch like people possessed."